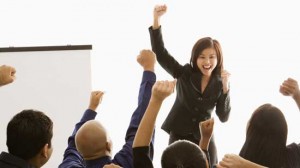 The media: TV, radio and the printed press is largely dominated by male experts. The wonderful organisation Hersay is challenging this trend, by promoting female experts in all fields, to ensure more women are used in live debates and in the press. As an expert I am now listed on the Hersay website.
On Monday I was lucky enough to be invited to a Parliament Week event in Portcullis House, where we met leading female experts: from journalists, radio and TV presenters and movers and shakers. From the calibre of woman in that room, we'd rock the world with our expertise, experience and passion. So why is the media relying largely on male experts?? Of course male experts are also intelligent, have a high level of expertise etc, but we live in a world where there are >50% female population and this isn't represented in the media.
Hersay is promoting female experts to make them more visible, but of course we women experts must make ourselves available and 'ready' to step up to the challenge of being interviewed! The media experts shared their experiences and tips for being interviewed. Here are some nuggets of advice from them.
You are there to entertain!
Be controversial: blandness is death on live radio or TV!
Be bold: you need to step up your normal 'voice' and personality for the media!
You must have an opinion: don't sit on the fence in debates
You must be passionate – this will translate well in the media
Use colourful words/vocabulary – both when speaking and for the written word
Tell stories
Twitter is the best place to make yourself visible to journalists/researchers
Tick stories on your browser every day, to comment on
Always ask for clips after you have been interviewed
You need to be visible online – so commenting on stories, writing a blog etc are all good ways of developing your brand as an expert
There were plenty of other fantastic recommendations – I could keep on writing all day. Thank you to Hersay and the fabulous experts who generously shared their expertise.
Susan Heaton Wright