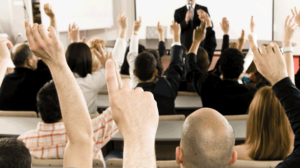 We identified that when you concentrate and focus on something, you frown and give the impression of being less approachable. I believe you already have a lot of knowledge, skills and experience in speaking and communicating to others. However, of course, there are always ways of improving the tone of the voice; posture; pitch of the voice and non-verbal skills. It is always worth remembering that the pitch of women's voices are sometimes difficult for men to hear (or at least take notice of). High pitched women's voices are difficult for men to tune into, so it is important for women to be aware of this and train their voices to be lower if necessary. It is also worthwhile being aware of the voice in stressful situations; women's voices in particular go higher in these situations, and if men find it difficult to hear higher voices… there are some implications there for effective communicating. I am always happy to discuss different programmes and sessions for improving the quality of the voice (and non-verbal skills) for effective communicating.
However, I don't necessarily think this is what you should focus on at this point. This is my gut/professional feeling on this.
The way we work and use skills effectively is to learn about them; practice and reach a point when they become second nature, so that we are almost not aware that we are using these skills. When you meet people that have charisma, they are using all of the skills they've learnt: such as eye contact; good posture; relaxed jaw etc, but they aren't thinking about these skills, they are second nature to them. When we see incredible performers such as singers, actors, speakers, politicians, they get into a performance 'zone', where they instinctively use these skills without thinking about them. My singing teacher used to talk about 'leaving your technique in the dressing room'.
The brain works on both sides: the left which is analytical and the right, which is creative. To make things simple, the left side of the brain has the 'technique' thoughts and the right, the risk taking – "just do it" thoughts. Exceptional performers manage to put their minds into the right side of the brain so they are not worrying/thinking about the technique, although it is there because it has been learnt.
I suspect in certain situations you are getting stuck in the left side of the brain and being too analytical; thinking too much about 'how to do it'. I am wondering if it would be an invaluable exercise to take a step back from what you are doing and look at the bigger picture. Are there situations you can identify where you go into this very 'focused' state – which is reflected in your face and body language??
Professionally, I believe that if you could identify some of these situations and possibly have hypnotism to try to train your brain into finding an alternative, or to relax when you are in those situations. A very good hypnotist would be able to help you identify those situations and come up with a strategy for dealing with these.