Do you have targets to engage and nurture your female talent? Are committed to develop the confidence,  impact  and communication skills of your female Talent?We can help.  Businesses are becoming aware of developing the talent pipeline for women within their organisations, to ensure the next generation of senior executives have the greatest ability and women are represented in greater numbers.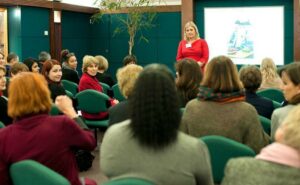 Being noticed, respected, heard and listened to are frequent challenges for women in business. Building confidence and resilience in order to deliver in more senior roles is crucial. The Superstar Communicator programme focuses on women developing their confidence through acquiring world class communication skills. Then women are part of the conversation, rather than the audience. Women are prepared to appear on conference discussion panels, to make an impact in meetings, speak in conferences and deliver memorable presentations. Training for emerging leaders, leaders and female talent at all levels is available; delivered through seminars, webinars, workshops and one to one training.
Our services include:
Susan Heaton-Wright delivering inspirational keynote speeches for conferences, internal events and women in business events to inspire the female workforce.
Individual mentoring for emerging female leaders to develop their confidence, visibility and skill set
Providing tailored seminars for women on personal impact, speaking up, presentation skills and being ready for panel discussions
Workshops on raising visibility; confidence; confident communicating and non-verbal communication
We are delighted to have supported many women's professional development at conferences. Through seminars and workshops including events at Accenture, Women in Property, Women at CII, Women in Rail and The Professional Women's Conference at the LSE. More recently we have delivered virtual workshops for Women's Leadership groups at Deloitte, RBS, Invesco, IAWA, Women in Transport and CII.
Susan delivers all our training sessions with a specific focus on women in business if that's what you would like – book a call below to discuss your requirements or get in touch