Our lives are influenced greatly by social media; whether it be responding to a message on Facebook; looking at someone's grid on Instagram (and being quite envious), or even using Linkedin as a platform. However useful social media is, there is a case for balancing social media images for credibility, as demonstrated by a recent incident.
A lifestyle blogger and 'influencer' with 40,000 followers on instagram, caused outrage with an image. This was not an offensive image directed at a particular group, or vulgar – thank goodness – but an image that had so many false messages in it. The person concerned was lying on her bed drinking a cup of tea (although the cup was clearly empty) and there was a pile of pancakes that looked remarkably like tortillas on a plate. Followers and instagram users started to comment on the false images and the fakery of the image.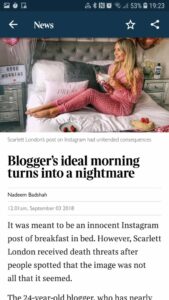 In fairness, I do not know this lady and the responses she has made to some nasty comments have been very professional and kind. She is making a living from Blogging and good luck to her. However, this incident highlights how not all posts and information on Social Media (and the web) are accurate. Of course in the whole scheme of things no one was harmed with this post, but there were some false images. But people were influenced by the number of followers she had, and others rightly pointed out that she has worked out how to use the algorithms to increase the reach on Instagram – and also, you can buy followers.
And this is the rub: is someone who is an 'influencer' because they have a certain number of followers more credible than a real expert? And what is a real expert?? Someone who is out there in real life AND on social media, sharing great advice or content or exclusively on Social Media? Are they being paid to be an influencer – or marketeer for a brand? Are you going to be credible within your industry because you have lots of followers and you are an influencer? I am not the only person to have been disappointed by meeting or hearing an 'influencer' on instagram with xxxx followers. Remember that we have to be credible In Real Life, particularly if we need to develop our careers. Having a big social media following and pretty pictures alone will not result in success in many careers since you are likely to be visibly caught out; just like Ms London.