I was fascinated when I came across this spreadsheet indicating preferences and therefore guidelines on how communicating with different generations. To summarise, the chart shows the communication preference that different age groups prefer to be contacted.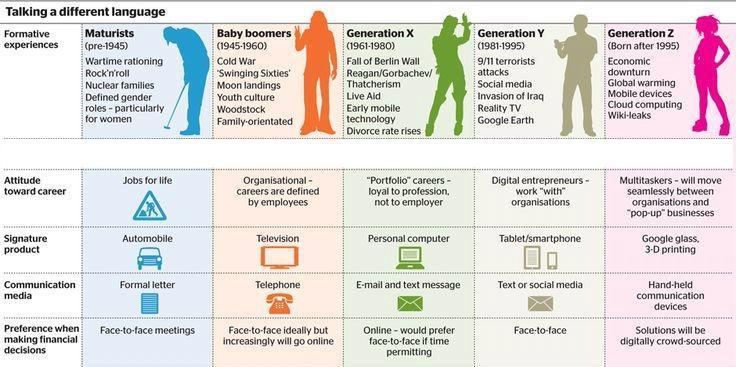 Looking at the information, it is clear to see that different age groups have preferred methods of communication: for example Baby Boomers prefer the telephone to engage in conversation, whereas Millennials (Generation Y) prefer Text or Social Media.
You would therefore surmise that you should pick up the phone to engage with a Baby Boomer, yet texted a Millennial; write a letter to a Maturist and email a Generation X. I agree; this is an effective way to engage with different generations. BUT there are some other things to think about.
Thinking about the industry you are communicating with: different industries have preferences for communication style and receiving information. For example technical people prefer emails and social media, where as the events industry love talking, so phone calls and face to face engagement is preferred! It is also worthwhile considering the culture of your own organisation: do people hide behind emails, or do people talk face to face: either in meetings or going up to people's desks? Anyone who is a fan of The Good Wife or House of Cards will know that face to face meetings and telephone calls are the preferred methods of communication, but this wouldn't be the preferred communication for other industries!
When I was working with a health trust, we discussed different communication methods and preferred styles. The employees knew that phoning to remember appointments and to have a chat with their specific patients was the most effective method, yet they were told by the managers (who were target driven not knowledgable about health issues), to text. Knowing more about these vulnerable patients decreased and no-shows to appointments increased. We persuaded the managers to adopt the phone call method and the general service of these vulnerable patients increased. This shows that taking into consideration the type of person, not just their age, does help!
Do you want to stand out from the crowd when you communicate with others? How often to you hear Gen X individuals complaining that their email accounts are full of emails? Or that they had 5000 + emails when they came back from holiday? Or a Millennial complaining at the 'noise' on social media? Sending an email is fine, but it might be one of the 150 everyone receives every day. So is it going to engage the recipient?
Of course when you communicate with others you want to engage with them. How often have I had feedback that my hand written invitation to an event is "Such a change from the 100s of email invitations we receive all the time"; or a phone call immediately starts with "Oh how lovely to hear from you Susan"? The reason why I get these responses is that I am doing something different from the norm; I am therefore standing out from the crowd and being memorable.
So: my message to you, is to do something different; if you always email people, why not pick up the phone or send them a short postcard with a hand written message? If you always call, why not text? If you always text, why not call (you have their number!) We live in a noisy communication world, and if you wish to really engage with your audience, you need to think outside the box, to make sure you are heard.