As well as teams returning to the office, many leaders and business owners are asking how to return to face to face training. There will be a huge skill gap: whether it is new employees, including graduates who have never experienced working in an office, to individuals returning from furlough.
However, just because physical spaces open up again doesn't mean F2F instructor-led training will return to normal. COVID-19 remains a threat, so you will need to modify your classroom in order to make sure your learners are safe and comfortable.
We have spent some time considering how we, as training providers, deliver our workshops in a COVID compliant way. Here's what you should consider in a new light as you return to classroom training:
The Planning
COVID-19 will probably have the greatest impact on the planning of your training programmes. Even if you have opened your offices, you still have an obligation to provide a safe work environment for employees. This also includes any training you are bringing into the office
Setting up the room
The training room needs to be set up so that learners can be six feet away from each other where possible. Additional features could be assigning seats for each learner and if possible setting up physical barriers for each participant.
Supplies
Similarly, you'll want to encourage participants to follow best practices for Personal Protective Equipment (PPE). Work with your office manager to provide masks, gloves, hand sanitizer, or other essential items that will help everyone keep from spreading germs. You will need to encourage the attendees to follow the best practices for PPE (Personal Protective Equipment. These include:

Masks
Gloves
Hand sanitizer
Providing individual equipment that only attendees use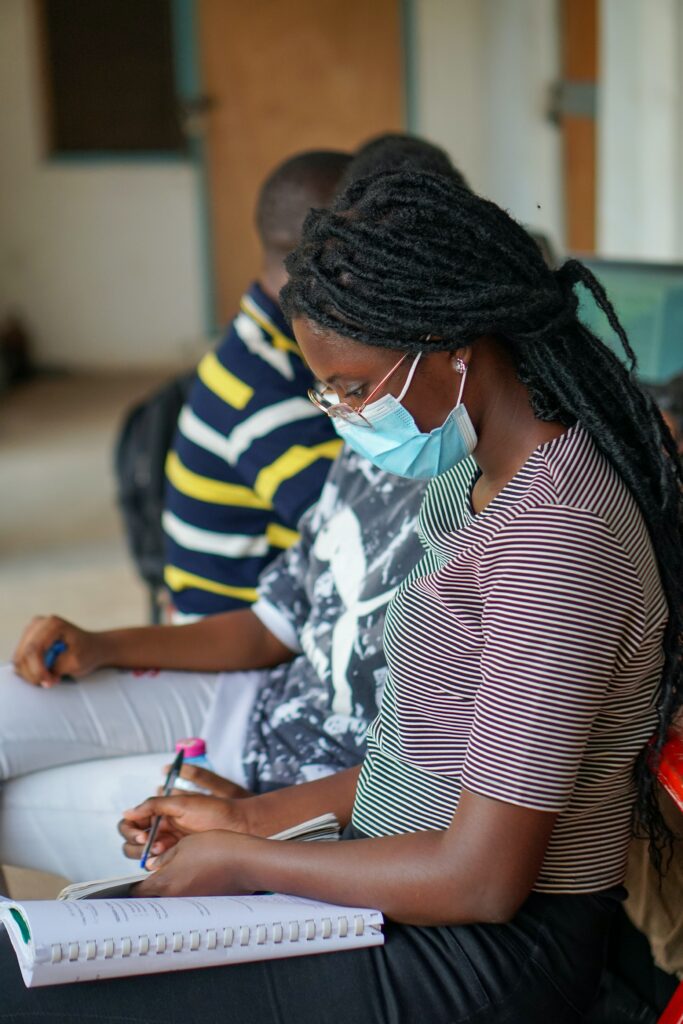 Plan Longer Breaks
Within the schedule of the training, the attendees may need more time during breaks. For example the loos may be limited as part of the safety procedure in place, or making individuals drinks might take longer. Build this into the schedule.
Accommodate Remote Learners
It is very likely that you will have a small number of attendees who choose to stay at home, or travel restrictions might prevent them being present in the room. Hybrid learning: with some attendees in the room whilst others dial in remotely, is something to plan carefully for. You will need to double check the tech beforehand; if necessary send a technical specification – including a clear screen, camera and microphone so that remote attendees are able to see, hear and participate effectively.
Activities
Communicating the New Training Rules
As with any training at a venue, it is the norm to read out the safety procedures. However, now you need to ensure everyone understands the social distancing policies as well as sharing the expectations of how they should keep themselves and everyone else safe. You could incorporate this into the introduction of the training day.
Group Activities
OAn exercise style that is of true value, is group activities as we learn so much from each other. However, with the new COVID restrictions and social distancing, trainers will need to consider how to run these: ensuring attendees can still engage with each other without putting anyone at risk.
The Impact of Face Masks
When we are inside, we are still expected to wear masks. This is a challenge for everyone when we are communicating: not only do we miss some subtle facial expressions, but for those who are hard of hearing, they are unable to lip read with ease. As trainers we all need to think about innovative ways we could ensure the communication isn't lost when wearing face masks.
Making people feel safe
The pandemic has created a different experience for many people. Some people might have lost their jobs; some might have lost family or friends to the virus, whilst others have thrived. We need to be mindful of everyone's attitudes and be aware of anyone who is feeling vulnerable. Of course for some participants being in a room with others will be fantastic. Whilst for others, it will be daunting and perhaps make them feel quite anxious. Watch out for any signs and support where needed and ensure no one feels marginalised. In the end, the most important factor is to make sure a learning environment is created that is safe and comfortable for everyone.
Training is an important part of developing employees skills; building teams and trust again as well as showing you value them. This is the time to plan ahead for face to face training. If you would like to discuss your training, please contact us or
Book a chat