I have always loved swimming outdoors: summers spent in Wales swimming in the sea; loving surfing on the Gower Coast and wanting to become fitter. Last year I used a "Lido Guide" from the Sunday Times to  find lidos and have a swim. We're fortunate enough to have a few lidos within a reasonable distance, although a much loved lido in Welwyn Garden City was closed following a tragic accident.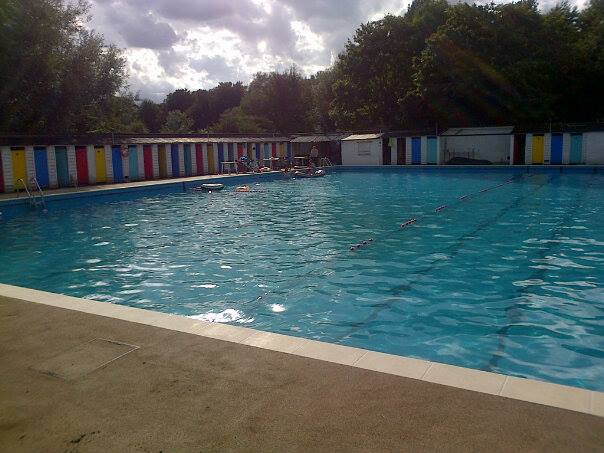 This year I wanted to do a 'Lido Challenge': visiting as many lidos as I could – and of course swim in them. But then a great opportunity came my way! I was aware of a lido, closed to the public, in St Albans. It was used by the St Albans Sub Aqua Club, but they were opening up a very limited membership for swimmers. I optimistically put my name down: to be told that it was a very long list! However, my Fairy Godmother waved her wand 8 months later, and I had the chance to claim one of the last membership slots available!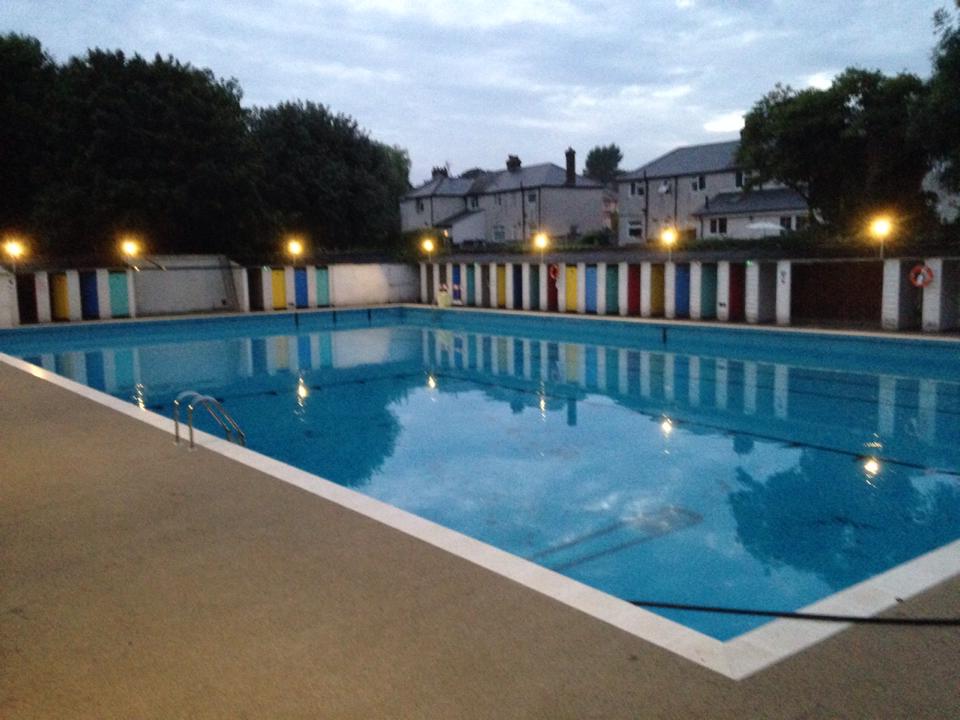 I had to attend a safety induction course, because there is no life guard. In fact I decided there and then, that I wouldn't swim unless other people were at the pool. I have subsequently gone to the pool when no one has been there and come straight back home! One of the other ladies at the course had learnt to swim there 50 years before (she admitted this!)
The pool was originally built in 1905 but was closed to the public in the 1970s. It was taken over by the Sub Aqua club and canoeing club. Recently they wanted funding to repair leaks, refurbish the club house etc. UK Sport funded this, provided they made the pool open to some swimmers. I am one of the privileged 130 members (including family membership).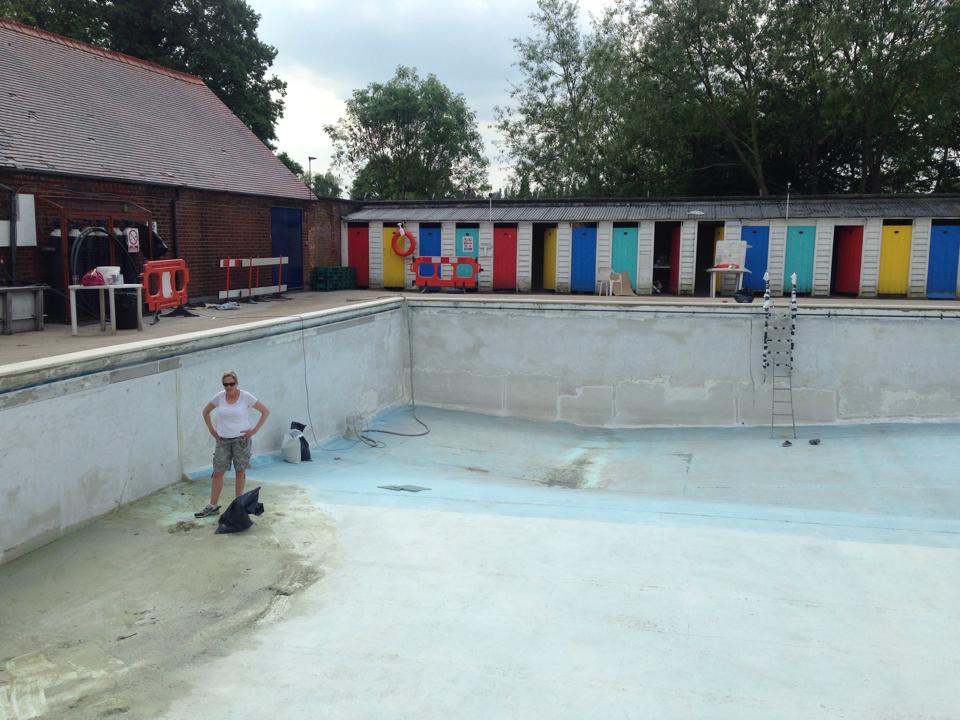 Before I joined, some club members were involved in refurbishing the pool and the wonderful cubicles. This included painting the pool blue before it was refilled. Unfortunately it was only when the pool was refilled that they discovered some major leaks. So opening the pool was delayed this season. Above is the wonderful Sue Wybrow, Managing Director of Pop Dance a party and choreography company. The photographs are from the Cottonmill Swimming Club, for which I am very grateful for their friendship.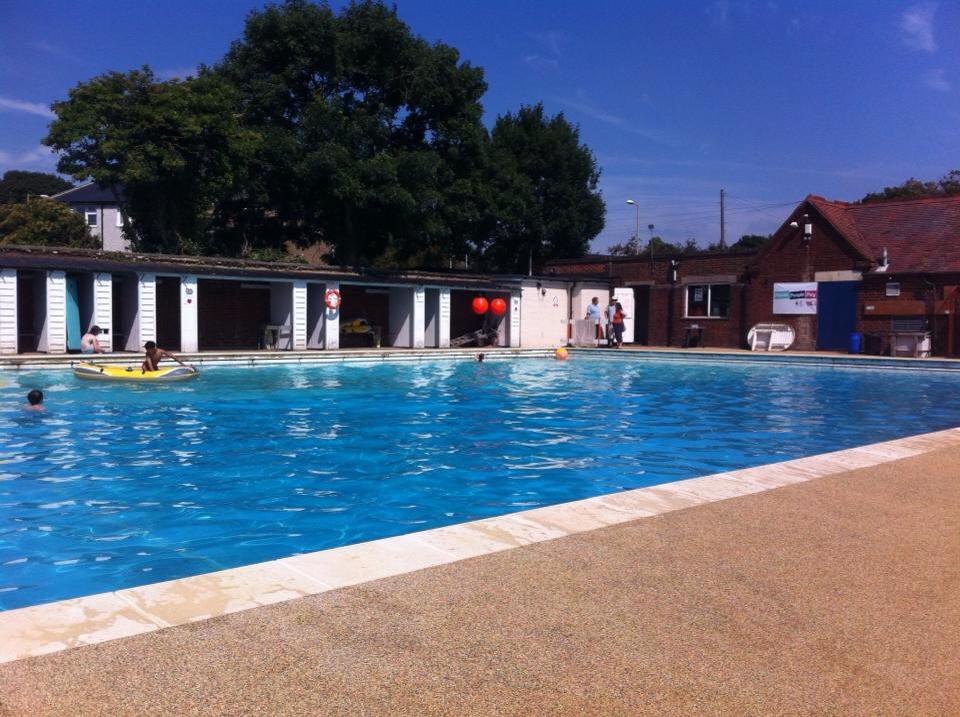 The pool is great for families as well as more serious swimmers. Some of the club members have left inflatable toys for everyone to share, and we're hoping to have a wetsuit swap so that wetsuits can be handed down to younger children!
There are a number of triathletes who train at the club; the pool isn't heated so it is a good environment for them to train. My husband and I go once a week to exercise. We will go this afternoon, and I would be surprised if there is anyone else there. We'll clear leaves off the pool surface, squeeze into our wetsuits, and off we'll go for 30 minutes. At the end of the session we feel wonderful. And it's fantastic there are warm showers outside now!
Open air swimming, even at this time of year, is a great way to exercise and you feel SO GOOD at the end of the session, I always look forward to swimming there. I'm not sure how much longer I'll be wearing my shortie. Soon it will be full length wetsuit. Then I'll know winter is  here!