Sending condolences and sympathy to those who are mourning the loss of someone is very important. It provides comfort in those darkest of times and shows support. It also highlights characteristics of the deceased that those mourning can remember the person.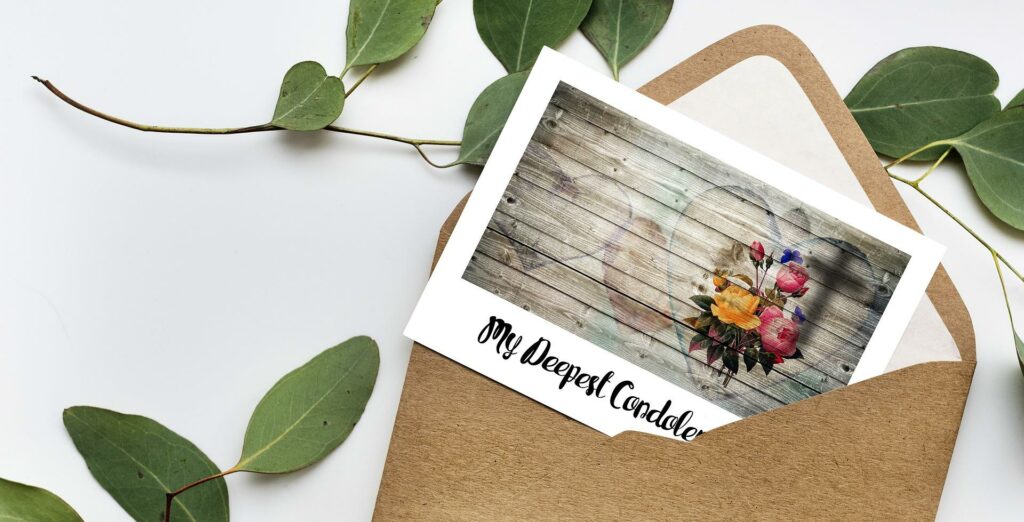 I am currently mourning the death of my beloved father my family and I have been overwhelmed by the kindness of those who knew him and who know us. Not only have we received private messages and cards, we have received phone calls messages on social media and they all mean so much to us.
In our darkest times we can read those we can pick up the cards and realise that my father was loved and respected and will be missed. It provides us with such comfort and it's only experiencing this that I can fully appreciate the power of sending a message or sending a sympathy card to show your support for somebody else. It is a hugely valuable exercise and one that connects us as human beings to each other.
"In our darkest times we can read those; we can pick up the cards and realise that my father was loved and respected"
However there is one exception to this that my family has experienced and this was from a relative of ours who has caused a lot of grief as a result of his actions. My father was a wise man and he anticipated that this family member might be a nuisance at any funeral. My father specified that he only wanted his wife my mother; myself; my husband and son; my brother and his wife to hand attend a small private funeral. This is indeed what we're going to do. However we've already arranged to have a memorial walk because my dad loved walking and wrote walking books and it looks as though we will be having a couple of summer receptions to invite people who knew my father to meet up and share good memories of him which is fantastic.
However I phoned up this family member on Tuesday to let him know that my father had died. This is my this is the man's closest relative. Of course you never know how somebody responds to a message like that and I have to forgive somebody for talking exclusively about themselves because they might be shocked. My grief ;my loss; my families loss was not mentioned at anytime. However to make things even worse my mother and I separately received a typed letter which said" I'm sorry to hear of your fathers death but it was not unexpected". This was received by my mother who is 88 years of old old and who has been married to my father for 64 years. This family member had not checked the health of my father for a couple of years so this is pure speculation and what a horrible thing to say on paper.
The impersonal typed letter only mentioned himself; only mentioned how he had lost his mother a few years ago and what it felt like and at the end he stated that he was now the elder leader of the family and that we should respect him… It was accompanied by a card which had nothing personal other than his and his wife's signature. If he was trying to imitate Mr. Collins from Pride and Prejudice he was doing a very good job. I have told my mother to throw away the letter and the card because we should not take any energy up.
But why did this person do this? Did they not realise that in those darkest moments we look at cards. We look at messages that people send. We look at letters people have sent and that goes through our mind. Remember if you don't particularly like a person which in fact this family member really liked my father, don't send something or send something neutral and respectful to the family members.
Remember this is not about you; this is about showing support to another human being who is hurting and if you feel the need to send a pompous letter all about yourself: don't. You can always type it on your computer and not send it but please don't send it. As I say my father was a Wise man and he knew that this individual would be very disrespectful to all of us at a time of grieving at a funeral. So I'm relieved that I'm not going to be seeing him there.
Thank you to all of those people who have so kindly sent messages and of support and love I'm going to remember those rather than my ridiculous relative.