Since 2016 I have delivered speeches and virtual workshops for CII local institutes. I am delighted to have been a preferred speaker for the Chartered Institute of Insurance and have been speaking at Institutes all over UK – face to face and virtually. My area of expertise is communication; and specifically empowering individuals and teams to speak and communicate effectively in all business situations.
From working with businesses all over the world, I am aware that good communication aides more efficient working; building trust with clients and with colleagues. My background is that I am a former opera singer who has studied neuroscience and performance. Having worked with many incredible clients I have developed topics, speeches and courses relevant to your work to ensure your Power Skills are outstanding.
Here are some of the topics I regularly deliver:
Virtual Presentation Skills
Networking for Success
Leading Hybrid Teams for success
Break the Bias: understanding why we stereotype others and how we can make better decisions
Raising your visibility for career success
Having difficult conversations
Assertiveness skills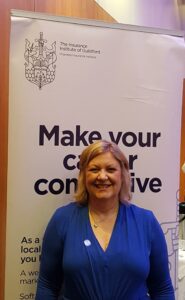 I want to make it as easy as possible for you to market the content I deliver and to ensure the whole learning process is of a high quality for your local institute.
There is information on content and outcomes in the material – it is easy for you to market the course
Clear outcomes are included in the slides
Slides from the workshop sent after the event for CII regulations
There are blended learning materials included for many of the courses, for additional learning
If you would like to discuss specific topics or would like to book my speaking services: please email hello@superstarcommunicator.com or
I look forward to working with you in future