Last month I was reminded how powerful the art of storytelling is, when selling to potential clients and customers. I went to the wonderful Gower Show in South West Wales; an annual agricultural and cultural show. One of my favourite areas is where local craftspeople sell products. These range from jewellery, photographs, crafts and Welsh 'themed' items. I was drawn to an attractive stand with a wide variety of cushions made from blankets.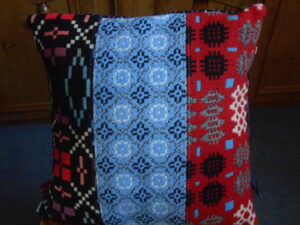 I was engaged by the owner of the company, who explained that every cushion was unique because she collected old Welsh blankets that were woven by hand. Many were in poor condition and she recycled them into cushions of different sizes. Some have Welsh words embroidered on them; others have daffodils or sheep. Most are square but there are hearts too. It is a wonderful way to celebrate the craftsmanship of the weavers – and many of the vintage blankets are over 100 years old. I was particularly drawn to a cushion (pictured above). The owner, Claire Jenkins told me that she had exhibited in Cardiff and someone came up to her, recognising the design and colours. "My father would have woven this blanket", the lady said. Individual weavers would always work with a specific palette of colours – or in the case of the weaver concerned, he was colour blind so would work exclusively with white, black and one other colour.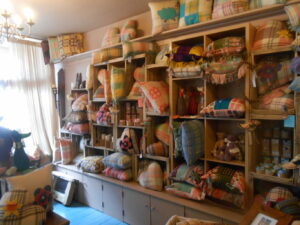 I was so struck with the story, and the passion that Claire had for her business: creating something special from old hand woven blankets. She told me that often people come to the shop with damaged blankets from their relatives' homes; she creates something from them. Her enthusiasm for her products and the stories really engaged me. Of course I bought the cushion.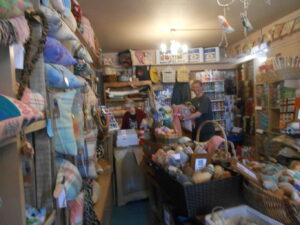 I was so delighted with the cushion, that I decided to visit the shop when I was next in South Wales and buy some more. This proved to be a treasure trove of memories and creativity. I engaged with the assistant in the shop, who told me more stories about specific blanket designs; where they were woven and stories about relatives bringing blankets. My husband and I bought two more cushions and I went on the "Wish List" for a blanket!
The reason why we both "bought into" the cushions was the story telling. The website did nothing to convey the charm of the products, the heritage or the uniqueness. Meeting Claire and her assistant enabled us to fully engage with what they were doing and as a result, we became customers.
We spend a lot of time, as business owners or employees, considering what our message should be online. Is it now time to use our powers of speech and storytelling, so that we can engage with our potential customers face to face?
What do you think? I'd love your comments on this.
If you like this blog, why not subscribe to the Executive Voice newsletter?