I am always delighted to share top tips for trainers. There are many fantastic experts who wish to share their knowledge and expertise, but who find they lose energy when they are delivering workshops, or, even worse, they lose their voices.
In one of the business groups I am in, another, dynamic entrepreneur shared she had delivered a 4 hour workshop, which received excellent feedback. However, half way through the workshop she felt physically drained, exhausted – and she lost her voice. This prompted me to record an episode of my podcast on this topic.
 In the latest Superstar Communicator podcast, I share top tips on how to maintain your voice and energy through a long training session as a trainer. A downloadable worksheet for this episode is available here. To access the podcast: Listen here.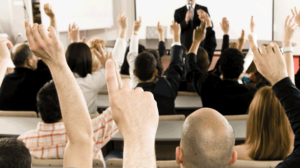 Every performance: whether it be a presentation, media appearance or training workshop is a physical activity and we have to mentally and physically prepare ourselves for these. A workshop is a marathon and as well as doing the preparation of training material and structure we have to prepare ourselves. Here are 3 of the tips included in the podcast.
Be refreshed before you start the workshop: a good night's sleep might sound old fashioned but you will be more relaxed and energised if you have had a good sleep.
Arrive at the venue in plenty of time. Take time to orientate yourself in the room. Check all of the technical equipment you will be using; where the loo is etc! Take time to relax.
Eat before the workshop. A good plate of carb – such as porridge (if for the morning), or a bowl of pasta will provide your body with energy for longer than a snack. Do eat through the day; I will often eat bananas – great as a healthy energy pick me up. Try to avoid lots of sweet things!
Listen to the podcast here.
Executive Voice offers a Train the Trainer workshop. This is currently in house only.
However, we have created a low cost downloadable audio course available here.
I hope these top tips and the podcast will provide you with some new ideas to try when you are doing training. If you would like any other information about our services contact us.