How can we learn top speaking skill tips from a tennis champion? Surely speaking and tennis are two completely different skills. However there are many similarities with attitude and mindset. This weekend we were treated to a masterclass in mindset tips from Emma Raducanu who won the US Open.
There is no doubt Raducanu is incredibly talented, and will make a major impact in the next few years. Listening to her interviews and also reflection from past champions and experts, she is also mentally very strong. In a lot of SuperStar Communicator's work, we focus on key skills to ensure you perform with excellence when you speak, and often use tennis as an example. Watching the match on Saturday evening,
Being in the moment. This was an incredible feat for Raducanu. She was in the final of her first major championship, on the largest tennis stadium in the world. The partisan crowd were mainly cheering for her opponent Laylah Fernandez (a fabulous 19 year old player); her parents weren't in the crowd: prevented by strict regulations in USA. She could have been overwhelmed as many tennis players are when they are in their first final. Clearly she was so strong mentally that she was able to remain focused on the moment. If we are in an interview it could be easy for us to be distracted by other things: whether it is self doubt or not answering a question well enough. Being in the absolute moment makes a difference to your outcome.
Taking every shot individually. I often speak to my clients about this as it is an important speaking tip. We can think ahead to a particular part of a conversation, or that the other person might say 'no' when in fact focusing on what the other person is saying and how you respond (rather like a tennis rally) is very powerful. It is an effective way to speak. So always think of a two way conversation as a tennis rally!
Moving on from mistakes. hey: we all make mistakes. Raducanu acknowledged that she still had a lot to learn. But I always say it is how you get out of these mistakes that is the most important thing. If you dwell on a mistake; or even apologise to the audience as a speaker it will stay in your mind. Move on quickly!
Being totally prepared physically and mentally. I can't begin to imagine how hard it would be to sleep the night before the final! The combination of fear and excitement must have been overwhelming! But being fit; maintaining your fitness, positive mindset and stamina are so important. We have trained a number of keynote speakers who are now delivering workshops – which is a longer time and they have struggled with their stamina. Being able to pace yourself; having the right food and fluids make a real difference.
Literally focusing on the task ahead. This is something Emma said in one of her post match interviews: "I stayed focused on the task ahead" rather than being distracted by the crowd; the enormity of the occasion and the outcome. For speakers this is a very useful attitude to have: whether it is a pitch or interview where there is a significant outcome or result. We might make a little mistake but need to focus on the task and outcome in order not to be distracted.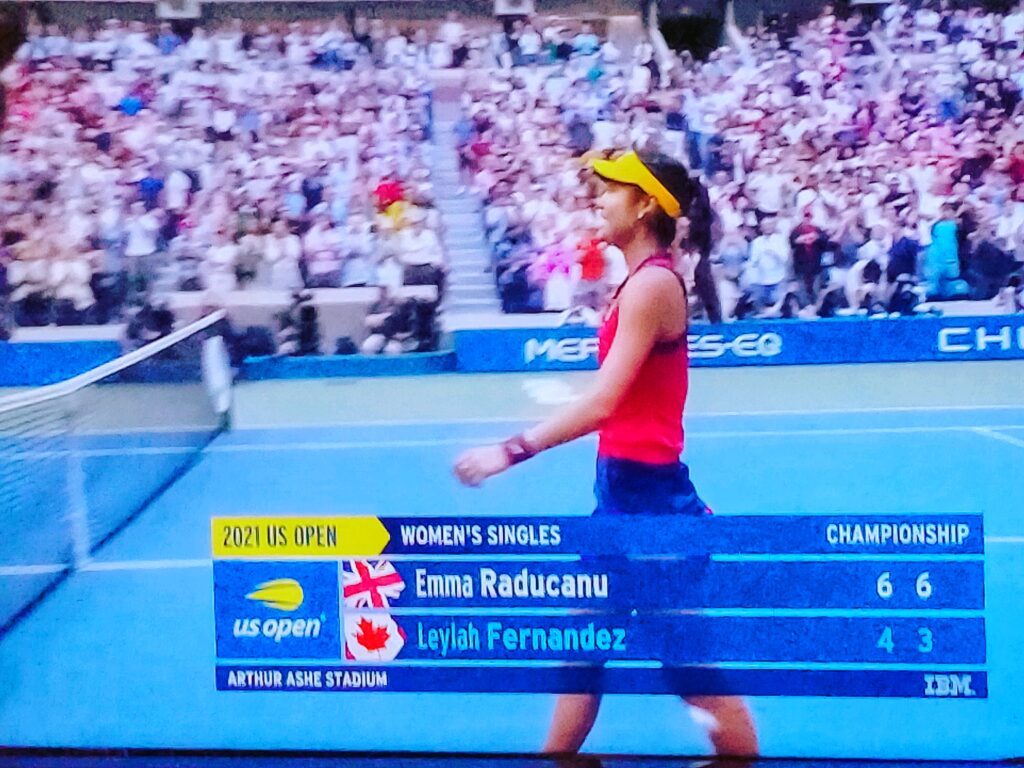 Celebrating success It is so important to celebrate successes afterwards, instead of focusing on any mistakes. Both during the match she celebrated great points and also afterwards. There is nothing wrong with a fist pump! And as a speaker, it is important to do this too!
Preparation Although Raducanu is a sensation: being the first player who went through qualification to win a grand slam, and she didn't even drop a set! She has been practicing for years, developing her skills; getting used to playing different opponents; travelling from home. As speakers, whether it is a pitch or meeting with clients, the preparation makes all the difference.
Being talented no matter how strong you are mentally; how effectively your mindset is, if you don't have talent, you aren't going to reach the heights of Emma Raducanu. I have to confess that I am unable to play tennis: I have very poor hand eye co-ordination but was very athletic when I was young. No matter how good my mindset was, I was never going to be a tennis player! However, for speakers, developing techniques – which we develop with SuperStar Communicator support individuals and teams to become impactful, effective and confident speakers in all business conversations.
If you would like to discuss working with SuperStar Communicator either as an individual or for your business book a call here.