I am from the United Kingdom and have been considering why Queen Elizabeth II was a SuperStar. And yes, she really was. Now the national mourning has finished, it is time to reflect on how Elizabeth the Great impacted our lives.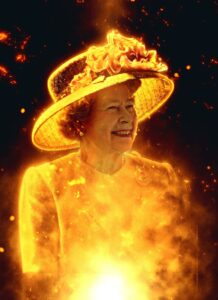 It is very easy to start writing a Hagiography of Queen Elizabeth: certainly there have been many articles written and memories shared that fit that style. I didn't ever meet Queen Elizabeth, so my observations are based on my experiences as a woman, whose sovereign was the Queen. There are a number of ways she influenced my understanding of being an exceptional leader.
Soft Power
So many commentators have mentioned Queen Elizabeth's Soft Power. Soft power In politics (and particularly in international politics) is the ability to co-opt rather than force behaviour, opinions and preferences. In other words, soft power involves shaping the preferences of others through appeal and attraction. The Queen met leaders from all over the world, and whilst she had no power in decision making for the United Kingdom, she was able to influence and represent the country impacting on the image of the nation.
Diplomacy
The Queen was a diplomat of the highest order. For seven decades she worked on behalf of the nation; supporting the work of the Foreign Office, the Commonwealth and development office. During her reign she visited 100 countries and hosted representatives from many countries when they visited the United Kingdom. We do not know what her personal views were when hosting banquets for SOME of these leader; her smile and warmth disguised any personal feelings. She welcomed them on behalf of the nation building international relations. One such example was when she met the Irish President and apologised to the citizens of Ireland for Britain's behaviour. She led the apology and moving the relationships between UK and Ireland.
Wisdom
During her seven decade reign, she welcomed 15 Prime Ministers for weekly private meetings. Hearing them reminisce about these sessions, those still alive all mentioned her wisdom from years of meeting Prime Ministers, and how they could discuss, in confidence, the current challenges, with her – no doubt providing advice. Her first Prime Minister was Winston Churchill; her last (for 2 days) Liz Truss. No doubt she preferred some Prime Ministers to others – but we will never know!
World Leader
Queen Elizabeth II met all but one US President during her reign. The only one she didn't meet was Lyndon Johnson. For many world leaders, meeting The Queen – for that is how she was known globally, was a highlight. Diaries would be cleared to accommodate the opportunity to meet her. Any event hosted by The Queen was dazzling and she had seven decades of hosting these; she often knew the parents of particular leaders. She met the good and sadly some evil leaders, demonstrating how to behave.
Female Leader
We are now used to many incredible female leaders, but seventy years ago, The Queen was a young woman surrounded by middle aged and older men. They had little confidence in her and certainly she had no role models as a leader. Of course she had been trained by her father, and it is understood that his values she used. The Queen was visible to me for my entire life and I was used to a female in a global role. Seeing women in leadership roles is now more normal and the vast majority, I am certain, have used her presence as a role model. No longer are women in leadership roles questioned in the same way. Theresa May, a former UK Prime Minister said that The Queen was the most impressive person she had ever met. I am sure May isn't the only person who believes this. And this was a female leader.
Having role models and examples of how to behave is very powerful for humans at every level. Not everyone will agree with what the Monarchy represents, but they are able to appreciate what a remarkable woman she was. May she Rest in Peace.
If you would like to discuss working with SuperStar Communicator, why not book a call: