Break the bias is the theme for International Women's Day 2022, and Susan Heaton-Wright is available to speak for events celebrating International Women's Day; speaking about #breakingthebias for a world of the future. Read more about Susan as an international speaker here. And here is the SuperStar Communicator SPEAKER page
Every year International Women's Day release a theme to celebrate the day – and women all over the world. This year it is #Breakthebias and this couldn't come at a better time. There is a significant amount of anger and unrest caused by factions and a reluctance to listen to other people's points of views. In a number of countries, women are still excluded from decision making and only recently we have seen women's lives being suppressed in Afghanistan. This is open bias against gender.
Here is the IWD 2022 campaign.
Imagine a gender equal world. One where there is:
A world free of bias, stereotypes, and discrimination. A world that is diverse, equitable, and inclusive. A world where difference is valued and celebrated.

Together we can forge women's equality. If we demonstrate the power and value of more diverse opinions and experiences, it leads to more powerful decision making.

Collectively we can all #BreakTheBias.

Individually, we're all responsible for our own thoughts and actions – all day, every day. We are unable to change the way other people behave, but if we are able to consciously break our biases and lead by example.

We can break the bias in our communities. We can break the bias in our workplaces. We can break the bias in our schools, colleges and universities. By leading by example; being aware of the benefits of a more diverse workforce and leadership.

Together, we can all break the bias – on International Women's Day (IWD) and beyond. In doing this the world will be a better place; making more informed, valuable decisions and celebrating the best talent.
So what do I mean by bias? It can be anything from:
* A man never accepting a female boss or leader 'Because she is a woman'.
* Undervaluing an individual because of their age
* Disregarding any advice, comments or opinions from particular ethnic groups
* Always assuming that because someone was originally from a particular country or region of UK that they will behave in a particular way.
* Accusing women of being bossy when the same statement from a man is considered 'Speaking like a leader'.
* Accusing women and women of colour, of being over emotional; when they have been assertive, to cut them down.
The fact is that we all have unconscious bias in our decision making; every day. Every single human being has unconscious bias. We are all fed stereotypes and this impacts on the decisions we make; whether they are every day or important choices. However, through being aware of what unconscious bias is; why we have bias; the benefits of having a more open mind and including a more diverse world, benefits everyone.
Susan's speeches and workshops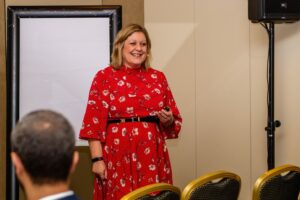 The #breakthebias speech includes:
What is bias and unconscious bias
Let's share statistics
Stereotypes and how dangerous they are in decision making and unconscious bias
Some common 'bias' comments based on unconscious bias
Reframing common bias comments so we are no longer triggered by them
Why do we do this in our decision making?
Discover how your bias and unconscious bias could be impacting your decision making.
What can we do to consciously make decisions
What are the benefits and value of including more women in decision making?
What can we all do to create a more diverse leadership?
All of my speeches are tailored to the audience and includes a pre-planning call.
Panellist
Susan is also available as a discussion panellist.
Susan Heaton-Wright is an international public speaker and fellow of the Professional Speaking Association. Susan is available to deliver speeches on this theme for International Women's Day. Please note: as a professional speaker, this is a paid service. Please call +44 (0) 1438 718 509 or contact us or Book a chat