Jessica Ennis-Hill is amazing. Let's say this again "Jessica Ennis-Hill is amazing". She has just won the silver medal in the Olympics for the challenging 2 day Heptathlon. Yet if you were to read some of the headlines, you would think she had failed miserably. The legendary athlete and commentator, Michael Johnson even said "She's finished". Yikes.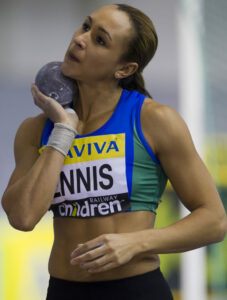 I have been appalled and saddened that this amazing athlete, woman, mother and role model has not had her success celebrated, but instead there has been speculation about her retiring. When was a silver medal at the Olympics a failure?
Jessica had a baby two years ago. The body takes time to adjust after pregnancy. Joints have become more 'elastic' and the pelvis in particular takes time to become more stable. Here is a guideline. Given the fact that Jessica would need to do a lot of basic training to get back her fitness levels, there were delays before she could start hard training. Also a number of the events – the hurdles, high jump and long jump required her to twist  her pelvis, so training for these disciplines was delayed to ensure there were no injuries. Yet she was still able to develop a six pack that is the envy of every male competitor!
The former Olympic heptathlon gold medalist, Denise Lewis retired after she had her first child. She recognised how difficult it was to come back after pregnancy, and is the biggest admirer of Jessica Ennis-Hill. We can't change the fact that the body goes through huge changes and adjustments during and after pregnancy.
There are some disciplines where pregnancy enhances the body and strength: for some classical singers, they find their voices are more powerful after having children. However, Ennis-Hill competes in a series of disciplines where different parts of the body are pushed to the extremes. She and her coach re-set her personal bests to before and after pregnancy, to maintain her focus. They recognised that going back to pre-pregnancy levels was a huge challenge and also Ennis-Hill is getting older when personal bests would be more difficult to get to.
Denise Lewis also mentioned that when Ennis-Hill was competing in London at the 2012 Olympics, she only had herself to focus on. At this Olympics, she also had to think of  her young son, Reggie and her husband. With the best will in the world, this is a challenge for any mother who is away from her child for long periods of time. I have met male Olympians who are fathers and they don't worry about this, because they know their wives will sort out all of the childcare, food arrangements!
Looking at the personal challenges Ennis-Hill  has had to go through physically and mentally as a mother and an elite athlete, it is astonishing that she has come back to win a Silver medal in the Olympics 2 years after giving birth, in a multi-discipline event when she is getting older.
Instead of focusing on whether she is going to retire or not, let's reflect on her huge achievement. What an amazing role model she is for women throughout the world. What an astonishing mother and sportswoman she is. Yes, Jessica Ennis-Hill: you are amazing.