Motivating and supporting others. This is what has been forefront of my mind in the last few days. Not only have I been encouraging my 16 year old son to revise for his GCSEs, but contributing to an APP and answering questions at a recent public speaking engagement. Notably: how to keep people motivated.
I am not Tony Robbins or any of the other amazing motivational speakers inspiring audiences. There are, however, plenty of situations where we need to support and motivate colleagues, family and friends.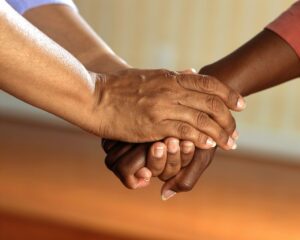 I am a contributor to the amazing app: www.rungway.com (which is currently in Beta testing). The idea is that people can 'ask' everyone in the community a question for advice. Individuals can post these anonymously. One recent question was related to keeping a team motivated during a tough time for the business.
I also received a question during a public speaking engagement. A member of the audience had 'inherited' a tricky situation when she was promoted. The company was going through very different times and everyone was very downhearted. There was a culture of blame; of focusing on what went wrong rather than successes.
I am also supporting my son who is doing GCSEs. He will be taking exams over a 6 week period and it is a challenge to remain motivated and focused for that long a period – particularly when the distractions of online games are there!
It made me consider how we, as individuals can support and motivate others. In the latest superstar communicator podcast I discuss how we can support each other. Of course a hand written note goes a long way, but actually speaking to someone and conversing; engaging with them and acknowledging their fears makes all the difference. Listen to the podcast here.
I spent some time listening to Churchill's war speeches. They were remarkable and considering the United Kingdom were in a very dark time of its history: with hunger, devastation, huge human losses and a situation that on paper appeared that the UK were defeated, Churchill appealed to the positive values of British citizens. Listen to the podcast. Other countries would have surrendered (and did) against the Nazis.
So when you are motivating others focus on the following:
Celebrate the positives
Acknowledge the current situation
Celebrate the qualities of individuals – such as creativity, talent, working together
Provide hope that things can be better in future
Give a glimpse of the future in a positive light.
I am sure there are other points you could add to this. A 'motivational post' on Facebook isn't the same as having a conversation with someone; so if you know someone who needs support, pick up the phone, arrange a cup of tea, or arrange a meeting! This is the true meaning of motivating and supporting others.
If you want to receive 5 Top Tips to being a great communicator, grab it here.