We have been going for 15 years! Yippee. This is the perfect opportunity to reflect and celebrate this important milestone in our business.
June is the birthday month of SuperStar Communicator. This time it is 15 years of business; empowering emerging leaders to speak and communicate with clarity, confidence and credibility. It is such a privilege to work with clients all over the world and I am so grateful to all of the clients who have trusted our work. There have been "Ups and Downs": every business has challenges and as with any leadership role, being able to deal with the failures and challenges is as important as always being totally successful.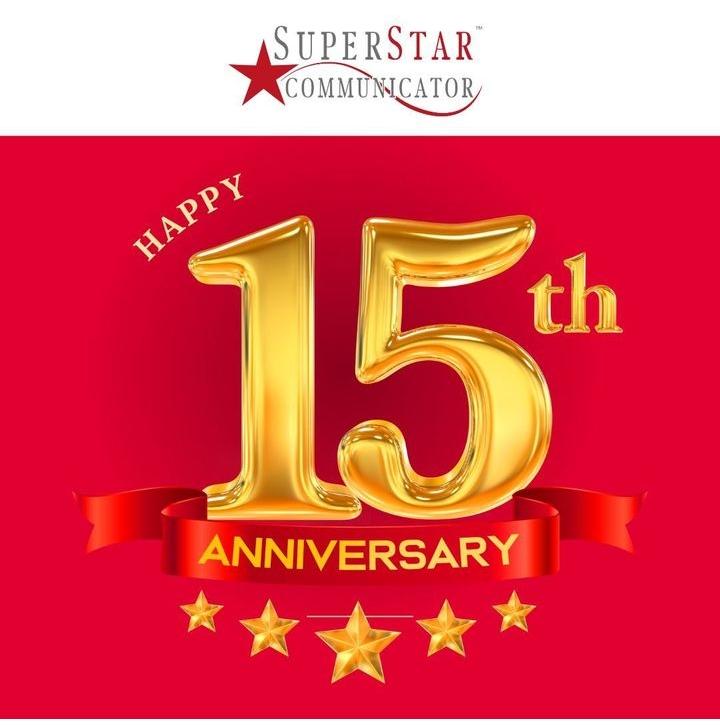 I would never have believed 15 years ago that SuperStar Communicator would be working with global companies; using technology as an integral part of the business; live streaming and having a podcast. And there have been come challenging moments: no one will forget what it was like when we went into Lockdown.
More recently, delivering virtual masterclasses with a fractured wrist – so only one hand was available to run the workshops! But as Sondheim famously said "I'm still here!!!" When I set up the company I had a vision but no contacts and confirmed work. I have, however, coached and trained adults for my entire adult life. I hadn't worked in a corporate environment (I had been a musician) so worked incredibly hard to build a reputation and client base. So reflecting on these last 15 years, here are some lessons I have learnt. 
⭐ 1. Have a clear vision of what you want to achieve. Having a vision and targets is a powerful way to move forward with your business.
⭐ 2. Adapt: needs, styles and customers change. A great example of this was during the pandemic. Although you should have a vision, it is okay to side step due to circumstances.
⭐ 3. Be very aware of the market: listen to your customers and ask questions. This includes trends and even changes of buzz words! Keep relevant.
⭐ 4. Have a great team around you; I am so lucky to have a team who are incredible. I am totally confident that my assistants and associates will be brilliant. I have every confidence in their abilities.
⭐ 5. Have a mentor: I have been very lucky with some incredible mentors to bounce ideas off and to be accountable. The opportunity for someone else to have a fresh pair of eyes on your business is invaluable.
⭐ 6. Diversify; avoid putting all of your eggs in one basket. The Business model of SuperStar Communicator is speaker/coach/facilitator AND face to face AND virtual. This is catering for different client requirements.
⭐ 7. Work hard. No one is an overnight success. "The harder you work, the luckier you get" is true.
⭐ 8. Be generous; support others; celebrate their successes. I have always been overwhelmed by the support and encouragement from other friends and business owners. I offer the same support to them. The world is a better place when we support each other.
⭐ 9. Get people to trust your abilities and service. Of course, at first this was a real challenge; but offering to deliver a short speech or masterclass started me off. Potential clients could see the value of the work and the outcomes. Building a trusted business takes time and I am hugely grateful to all of the clients we have who continue to work with us, or recommend us to others.
⭐ 10. It's all about the customer; never forget that. Be honest with them; if the service or product is not what you do, refer someone else! You want to ensure you provide the best possible service.
And for those days when things aren't going so well (we all have them) I use only Scarlett O'Hara quote that is of real value "Tomorrow is another day". Failure or things not going to plan are part of running a business and a learning opportunity.
SuperStar Communicator specialises in empowering emerging leaders to speak with clarity, confidence and credibility in all business conversations. We have a range of masterclasses, workshops, coaching and speeches related to Public Speaking, Assertiveness, having difficult conversations, Presentation skills and other related courses. Our work is CPD accredited. We deliver content face to face and virtually.
Why not contact us hello@superstarcommunicator.com Or book a call