A recent SuperStar Communicator podcast interview was on how leaders could support neurodiverse talent. We interviewed neurodiverse expert Diva Diaz where we discussed how leaders could support the neurodiverse talent in their teams. Diva provided us with 5 tips.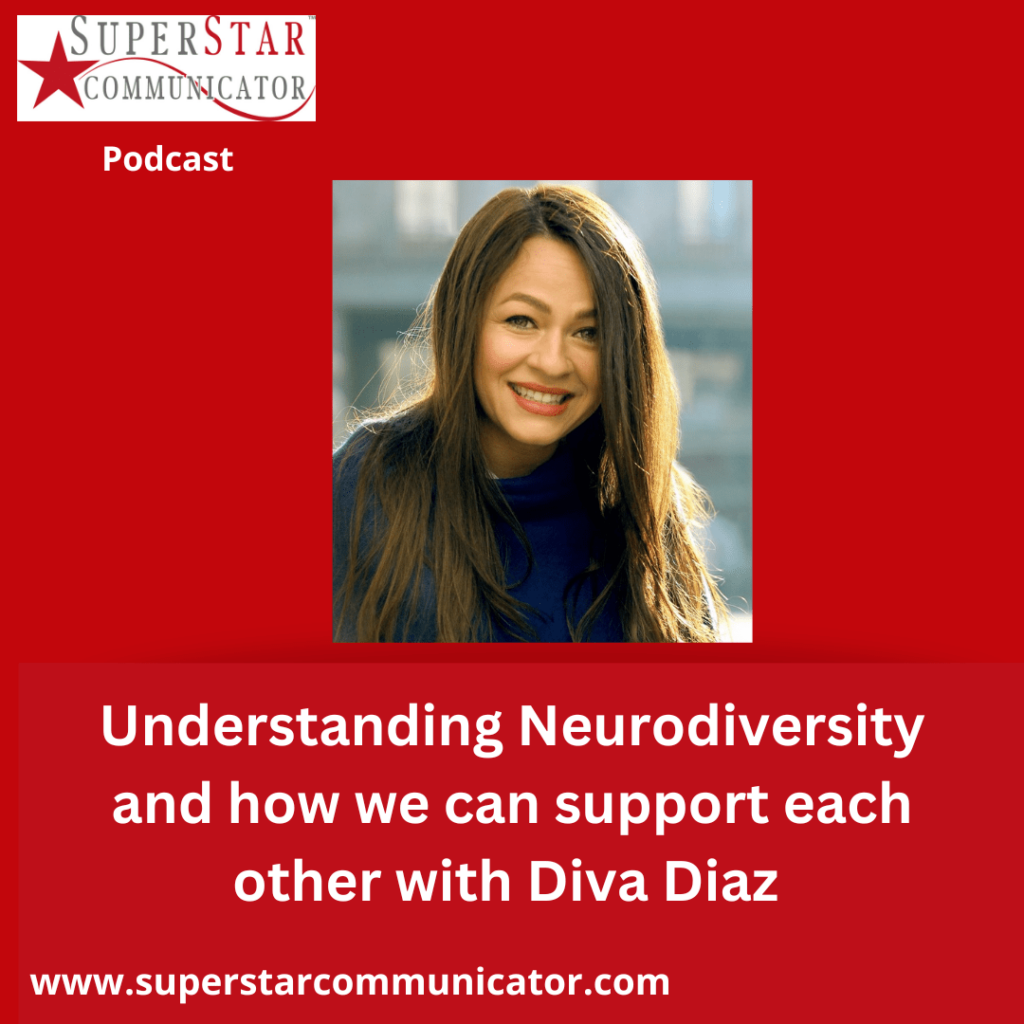 1. Create an inclusive and accepting culture: Leaders should proactively create an environment that values and celebrates neurodiversity. This can be achieved by promoting awareness and understanding among team members, fostering empathy, and challenging stereotypes about neurodiverse individuals. By creating a culture where everyone feels accepted, leaders can help neurodiverse talent thrive and contribute their unique perspectives and ideas.
2. Provide tailored support and accommodations: It's important for leaders to understand that neurodiverse individuals may have different needs and preferences when it comes to working styles and environments. By offering personalized support and accommodations, such as flexible work schedules, sensory-friendly spaces, or assistive technologies, leaders can empower neurodiverse talent to excel in their roles and unleash their full potential.
3. Foster effective communication: Communication can be a challenge for some neurodiverse individuals. Leaders can facilitate effective communication by being patient, using clear and concise language, and actively listening. They should also encourage open and honest dialogue, create opportunities for neurodiverse individuals to express their perspectives, and ensure that their voices are heard and respected in team discussions and decision-making processes.
4. Provide structured frameworks and clear expectations: Neurodiverse individuals often thrive in structured environments where expectations and guidelines are clearly defined. Leaders can support their neurodiverse talent by providing clear instructions, breaking down complex tasks into smaller steps, and offering visual or written aids to aid comprehension. By establishing consistency and clarity, leaders can help neurodiverse individuals feel more confident and perform at their best.
5. Offer professional development and growth opportunities: Just like any other employee, neurodiverse individuals have career aspirations and goals. Leaders can support their growth by providing access to training programs, mentorship opportunities, and professional development resources that cater to their specific needs. By investing in the development of neurodiverse talent, leaders not only empower them to reach their potential but also demonstrate their commitment to diversity and inclusion in the workplace.
By making everyone in a team feel included and valued is so important. For everyone to understand each others' needs creates more effective teams. Neurodiverse individuals have so much to offer a team; let's work together!