Every year I celebrate my birthday in January by offering a prize. This year, I thought I'd be extra generous by offering more prizes and you won't be disappointed. I will be choosing winners from those who register for the prize draw on 24th January (my birthday).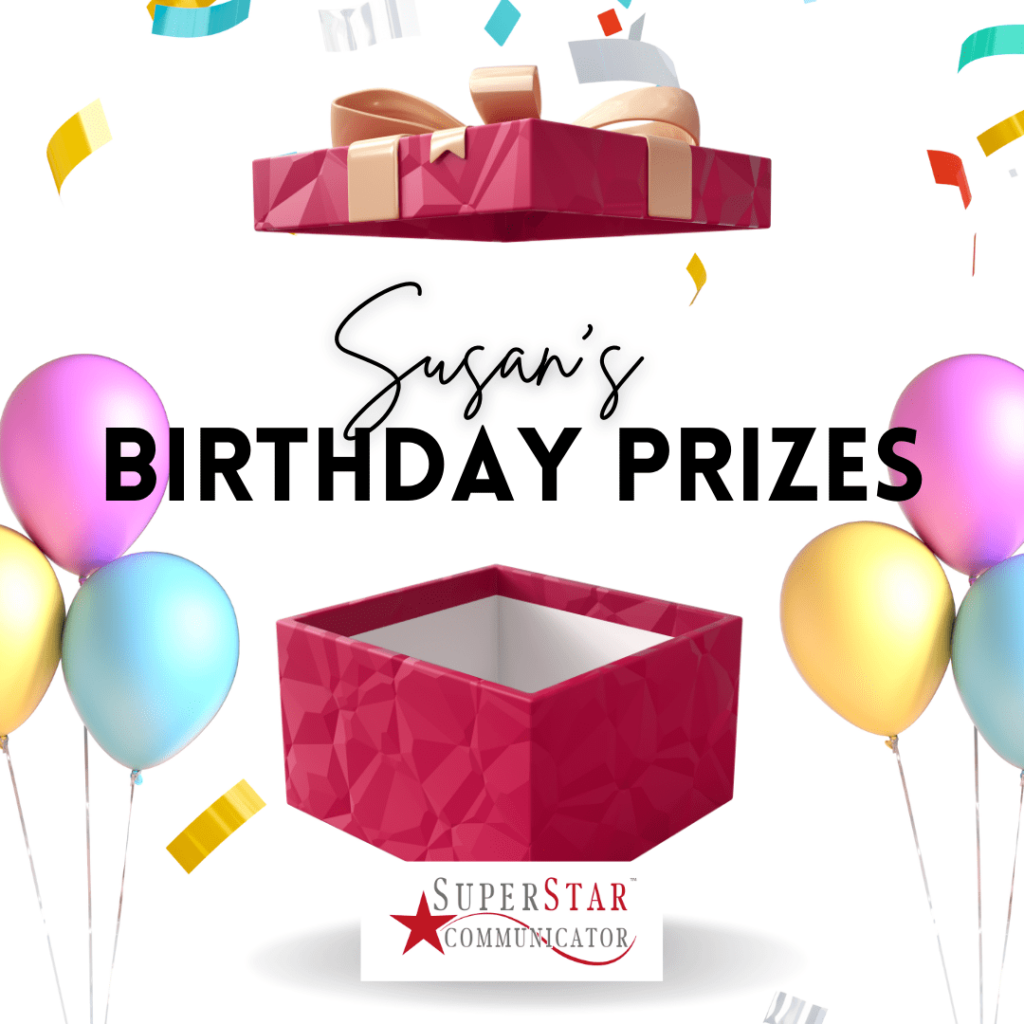 Full access to one of the SuperStar Communicator's online courses
Choose which one of these fabulous online courses you'd like as your prize. Accessible anywhere in the world on desktop or mobile. Full access without charge.
Courses available:
1. Make An Impact With Your Voice: An Introduction To Using Your Voice More Effectively In Business
2. Making An Impact With Your Voice And Physical Presence For Teachers, Trainers And Lecturers
3. Raise your Visibility for Career Success
5. Telephone Skills Audio Training Course
6. Virtual Presentations Skills Online Course
One hour virtual coaching session with Susan
Do you have a presentation to deliver? Or a job interview? Or you wish to make more impact in meetings? Our one hour virtual coaching session with an award winning speaking and communications expert will share ways to speak and communicate with more impact; more confidence, clarity and credibility.
The session is recorded so you can use for your personal development.
See more: One Hour Virtual Speaker Coaching Session
Victoria & Albert Museum Visit
Be Susan's guest to visit the Victoria & Albert Museum in London to see an exhibition. The winner will need to make their own way to the museum, but the entrance for the exhibition will be paid by Susan. We'll have coffee afterwards and a good chat!
See more about the V&A Museum here
AND the final treat:
BONUS: Pitch to be a guest on the SuperStar Communicator Podcast
We want you to pitch to be a guest on the SuperStar Communicator podcast. This is a brilliant opportunity to raise your profile and be interviewed by an experienced host. We will review pitches and select the most suitable option.
To enter the prizes, you need to register at ​​https://offers.superstarcommunicator.com
You will then have the opportunity to select to enter the prize draws that you wish.
If you wish to pitch to be a podcast guest, there will be a couple of questions to answer to be considered.
I look forward to seeing your entries and GOOD LUCK!