Part of your career business development strategy should be how to demonstrate credibility. This could be as an individual – as in your own personal brand or for your business. But how do we demonstrate this?
What is credibility?
The Cambridge Dictionary says: Credibility is "the quality of being trusted and believed in" and "the quality of being convincing or believable". So taking this in a business or personal brand context, these are qualities that a prospective client or customer will look for in their decision making. Also to existing clients, continuing to demonstrate credibility is a factor for retaining their business.
Why is demonstrating credibility so important?
It is a competitive market: whether you are an executive or business owner, you want to stand out for your trustworthiness; your 'track record'; the quality of your work, service or product aide your credibility. In other words people will 'buy into' your personal brand, buy your services or products, if you show credibility. Whilst people buy partly on emotion, they are reassured if you, your product or service is demonstrating credibility.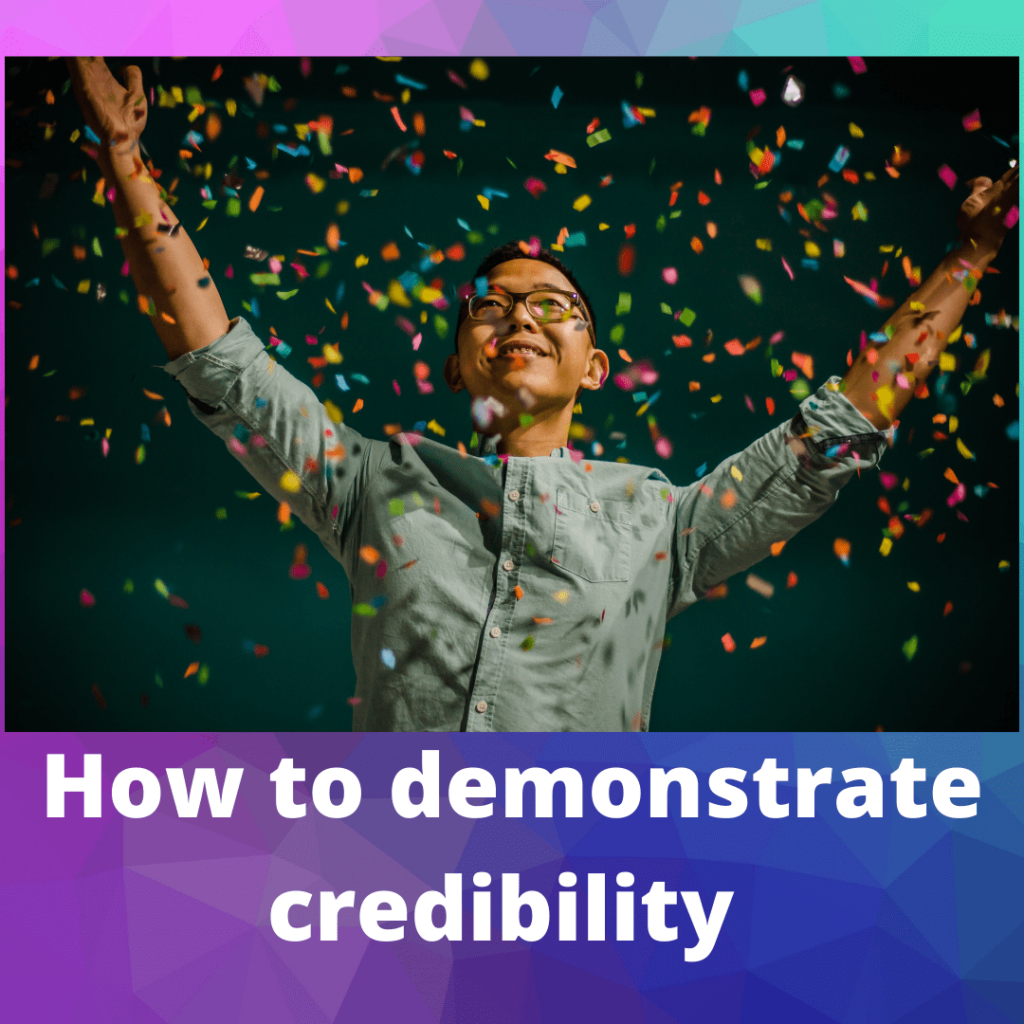 So how do we demonstrate credibility?
There are a number of ways we can do this. Given that we are currently communicating virtually: let's hope we will be able to see more people face to face soon; there are lots of ways to demonstrate credibility. Here are some.
What are people saying about you? Testimonials and mentions by other people help raise your credibility. Do you have testimonials and feedback from clients visible on your website? Do you ask for testimonials and recommendations on Linkedin? This is time to receive some.
How do you present yourself online? Do you present yourself – online with confidence? Are people re-assured by your presence? Do you show trustworthiness? Are you confident? Prospective clients and customers will pick up on this if you DON'T show you are confident in your service or product. Look at the images you are sharing online. Look critically at any post – and especially video to see if it represents you and your business in a credible way.
How do you present yourself face to face? Do you show confidence; trustworthiness? If you have open body language; eye contact and appear approachable, these provide evidence of trustworthiness.
The language you use. If you use impactful words; rather than apologetic ones, you will reassure others of your credibility and reliability. Clients, colleagues and customers are re-assured by these words. Avoid apologising or using what I call "Ding Dong" words.
How do you show your track record? I have already mentioned testimonials, but what experience do you or your business have? Do you make it clear who you have worked with? How long you have been trading for? What qualifications or accreditations do you or your business have? Make sure these are visible or you tell prospective clients. Also, if you get more accreditations – let your existing clients know.
Here at Superstar Communicator, we work with clients who wish to demonstrate credibility through how they present themselves. This could be virtual workshops delivered to a team, or individual coaching and the Superstar Communicator Programme for leaders and individuals who wish to ensure they are demonstrating credibility. If you would like to book a chat to discuss how we could support you or your company to demonstrate credibility please book a time here