2021 What a year for SuperStar Communicator and it is a really good time to reflect on the year and to celebrate successes. As with 2020 it was a very uncertain year, but SuperStar Communicator continued to develop and deliver outstanding coaching, consultancy and training for clients worldwide. Here are some highlights.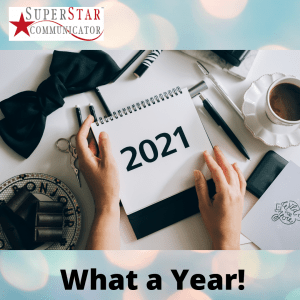 Global Reach:
SuperStar Communicator's Global reach has continued to increase. It is a genuine honour to be invited to deliver work to people all over the world and now we have delivered training and coaching to attendees from over 70 countries in the world. As ever we learn as much from our attendees as they learn from us. As a result we have been able to tailor our courses to different regions. Feedback has resulted in us developing new topics to address challenges individuals and teams – all related to communication skills. Specific projects include a professional development programme in UAE; consultancy and training/coaching in USA companies and an ongoing project in Italy. This is in addition to speeches, masterclasses and virtual workshops delivered to international companies.
Awards:
Susan was nominated for awards in 2021. In the Best Business Women's Awards, she won a silver award for Business Services. In the Hertfordshire Small Business Awards she was named the bronze winner as the Hertfordshire Business Woman of the year category. SuperStar Communicator was also commended in the Learning Awards.
IN addition to this, Susan was awarded a fellowship in the Professional Speaking Association for her work as a professional speaker.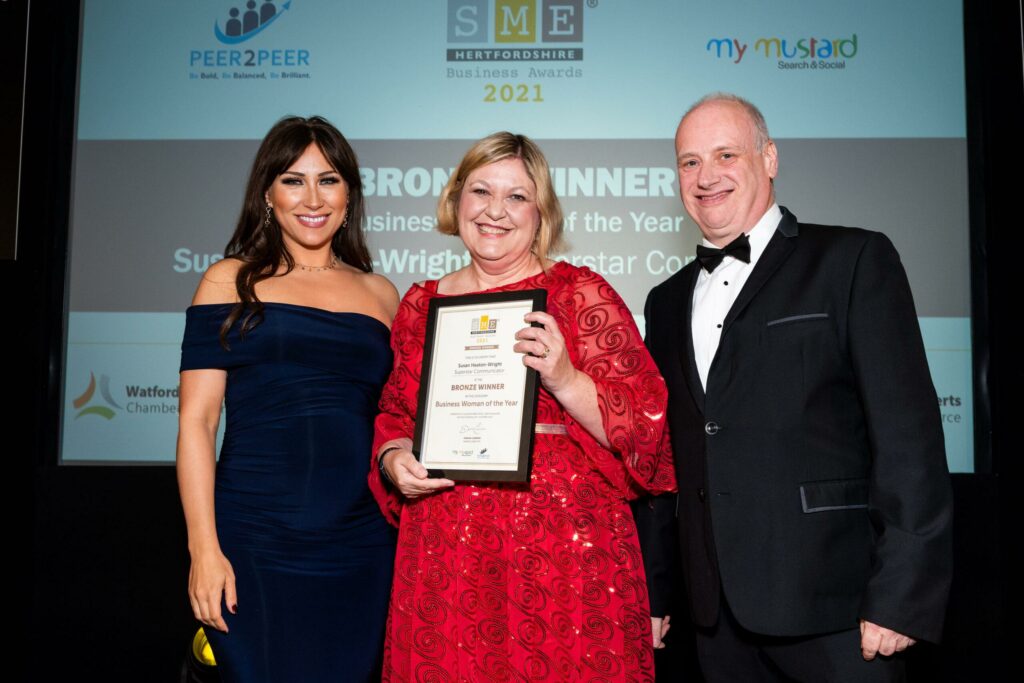 Variety of Courses:
Hybrid working, leadership and career success within a hybrid work environment have all been hot topics for many clients. Not only have we developed specific virtual and face to face workshops on related topics but also included other communications related courses. As a result of consultancy work with a global client, another speech and virtual workshop is on using communications to create a safe psychological work environment. Here our our current workshops and masterclasses: we are always happy to create more bespoke courses.
Developing E courses:
As a result of listening to clients' needs and raising accessibility of high quality training, we are currently developing e courses of the most popular topics so that individuals who are unable to attend a virtual workshop, or those who prefer independent learning are able to access world class learning. These are not recordings of existing webinars, but expertly constructed courses with independent exercises and clear learning objectives. Look out for our updated courses here.
Continuation of the CPD accreditation
We have continued our CPD accreditation in 2021; we want to assure our clients that the quality of our services was of the very highest standard with the content; subject matter; delivery and learning outcomes. This year the CPD Standards have given the option of virtual courses which in time will be also accredited as face to face workshops. Many of our clients continue to request CPD certificates for their attendees. More information about CPD accreditation.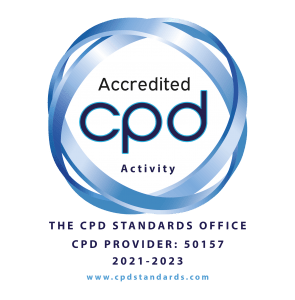 Speaking Engagements
This year there have been no 'live' speaking events, but I have continued to be a speaker at online summits; for organisations and associations. In addition to this, I have delivered speeches and masterclasses to international organisations. I spoke for International Women's Day 2021, and am already taking bookings for International Women's Day 2022. See more details here.
SuperStar Communicator Podcast
We have continued to broadcast outstanding content to our listeners. With expert guests and masterclasses. They continue to inspire and provide useful learning content. Thank you for listening. You can listen here.
Associates
Due to expansion of our services, we are now beginning to use associates. They have specific expertise which adds value to our clients. Already we have delivered specific communication skills related to report writing and Emotional Intelligence, using the SuperStar Communicator™ methodology with the specific topic. We will be introducing our associate team in 2022.
Charity and fundraising events
This year we have supported the St Albans Postbox project which raises money for local charities. For 3 years we have sponsored a postbox topper and are delighted to be a supporter. IN addition to this Susan has fundraised for the Alzheimer's Society, swimming the Serpentine Swim! She also raised money for the Isabel Hospice in Welwyn Garden City and the Pancreatic Cancer UK charity. We deliver mentoring for individuals and are beginning to support the ELSA foundation, supporting school children to meet their potential and the Ecologi project to build a sustainable business.
Thank you for reading; for your support and we look forward to working with you in 2022. If you would like to book a call to discuss your coaching, training or speaking requirements, book here.