Women in leadership masterclasses and workshops provide opportunities to develop the skill set of your female talent within organisations. Are you looking to support the development of your female talent within your organisation? Do you wish to ensure you retain your female talent? Then these masterclasses will provide the content and development of skill sets you require.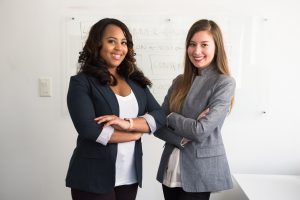 More and more organisations are recognising that in order to develop the talent of female employees, so they perform to the best of their abilities and that this talent will be retained. Having worked with many female leaders, we have identified key skill areas we believe are essential to ensure women are able to present the very best version of themselves in all business conversations.
Women in Leadership masterclass skills:
There are many skills that emerging leaders require. Since we specialise in spoken communication, our emphasis is on communication, credibility and impact. Our research and expertise has indicated that talented women who are emerging leaders often lack confidence; and this impacts their communication, credibility and presence. It makes sense: there are still not many role models for women to reference in senior meetings. Particularly when working in a predominantly male environment.
We have created a series of masterclasses and workshops covering a number of challenges in the workplace, women experience as well as the opportunity to develop essential communication skills. The topics include:
Download our brochure here.
Developing your women in leadership talent with masterclasses is essential. If you would like to discuss SuperStar Communicator delivering masterclasses and workshops to your organisation contact us